The Wrong Gospel Galatians 1:1-12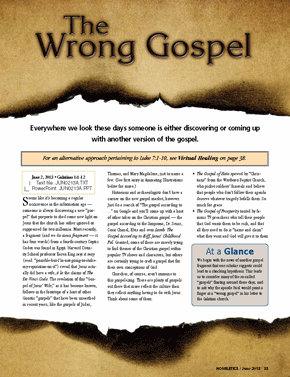 Everywhere we look these days someone is either discovering or coming up with another version of the gospel.
At a Glance

We begin with the news of another gospel fragment that one scholar suggests could lead to a shocking hypothesis. This leads us to consider many of the so-called "gospels" floating around these days, and to ask why the apostle Paul would point a finger at a "wrong gospel" in his letter to the Galatian church.


Seems like it's becoming a regular occurrence in the information age -- someone is always discovering a new "gospel" that purports to shed some new light on Jesus that the church has either ignored or suppressed for two millennia. Most recently, a fragment (and we do mean fragment -- it has four words) from a fourth-century Coptic Codex was found in Egypt. Harvard Divinity School professor Karen King says it may (read: "possible-but-I'm-not-going-to-stake-my-reputation-on-it") reveal that Jesus actually did have a wife, à la the claims of The Da Vinci Code. The revelation of this "Gospel of Jesus' Wife," as it has become ...
Start your risk free trial to view the entire installment!
START YOUR RISK-FREE TRIAL
---