Why I Am ... Ephesians 3:1-12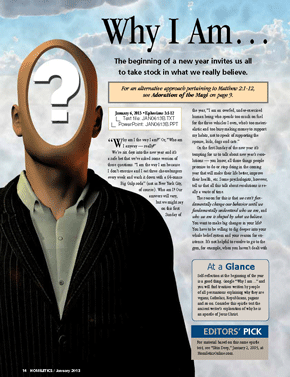 The beginning of a new year invites us all to take stock in what we really believe.
At a Glance

Self-reflection at the beginning of the year is a good thing. Google "Why I am ..." and you will find treatises written by people of all persuasions explaining why they are vegans, Catholics, Republicans, pagans and so on. Consider this epistle text the ancient writer's exploration of why he is an apostle of Jesus Christ.


Editors' Pick

For material based on this same epistle text, see "Skin Deep," January 2, 2005, at HomileticsOnline.com.


"Why am I the way I am?" Or, "Who am I anyway -- really?"

We're six days into the new year and it's a safe bet that we've asked some version of these questions. "I am the way I am because I don't exercise and I eat three cheeseburgers every week and wash it down with a 64-ounce Big Gulp soda" (not in New York City, of course). Who am I? Our answers will vary, but we might say on this first Sunday of the year, "I am an overfed, under-exercised human being who spends too much on fuel for the three vehicles I own, who's too materialistic and too...
Start your risk free trial to view the entire installment!
START YOUR RISK-FREE TRIAL
---