Adoration of the Magi Matthew 2:1-12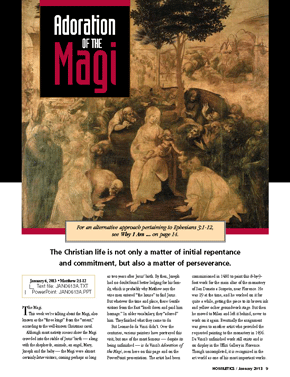 The Christian life is not only a matter of initial repentance and commitment, but also a matter of perseverance.
At a Glance

In the year 1480, Leonardo da Vinci was commissioned to paint an 8-by-9-foot work for the main altar of the San Donato a Scopeto monastery. He started his "Adoration of the Magi" and was well along with it, but then skipped town, went to Milan and never finished it. And therein lies a lesson for us today.


Editors' Pick

For material based on this same text, see "A Camel on the Roof," January 6, 1991, at HomileticsOnline.com.


The Magi.

This week we're talking about the Magi, also known as the "three kings" from the "orient," according to the well-known Christmas carol.

Although most nativity scenes show the Magi crowded into the stable of Jesus' birth -- along with the shepherds, animals, an angel, Mary, Joseph and the baby -- the Magi were almost certainly later visitors, coming perhaps as long as two years after Jesus' birth. By then, Joseph had no doubt found better lodging for his family, which is probably why Matthew says the wise men entered "the house" to find Jesus. But...
Start your risk free trial to view the entire installment!
START YOUR RISK-FREE TRIAL
---