How to Write Your Memoirs 2 Samuel 23:1-7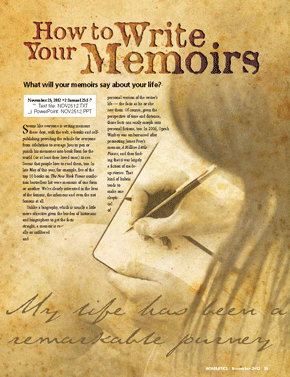 What will your memoirs say about your life?
At a Glance

Former president Bill Clinton once said:  "A lot of presidential memoirs are dull and self-serving. I hope mine is interesting and self-serving." Seems as though there are a lot of memoirs on the best-selling lists right now. These, coupled with the last words of King David in today's Old Testament text, give us the subject for today's homily.


Editors' Pick

For material based on today's gospel text, see "Eat Your Own Dog Food," November 26, 2000, at HomileticsOnline.com.


Seems like everyone is writing memoirs these days, with the web, e-books and self-publishing providing the vehicle for everyone from celebrities to average Joes to pen or punch his memories into book form for the world (or at least their loved ones) to see. Seems that people love to read them, too. In late May of this year, for example, five of the top 10 books on The New York Times nonfiction bestsellers list were memoirs of one form or another. We're clearly interested in the lives of the famous, the...
Start your risk free trial to view the entire installment!
START YOUR RISK-FREE TRIAL
---