Truly Kosher Mark 7:1-8, 14-15, 21-23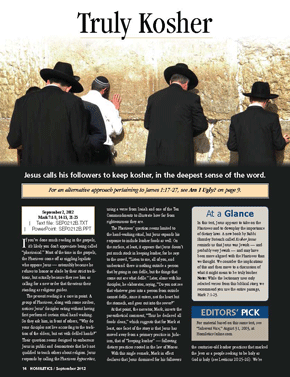 Jesus calls his followers to keep kosher, in the deepest sense of the word.
At a Glance

In this text, Jesus appears to take on the Pharisees and to downplay the importance of dietary laws. A new book by Rabbi Shmuley Boteach called Kosher Jesus reminds us that Jesus was Jewish -- and probably very Jewish -- and may have been more aligned with the Pharisees than we thought. We consider the implications of this and then move to a discussion of what it might mean to be truly kosher.

Note: While the lectionary uses only selected verses from this biblical story, we recommend you use the entire passage, Mark 7:1-23.


Editors' Pick

For material based on this same text, see "Inherent Vice," August 31, 2003, at HomileticsOnline.com.


If you've done much reading in the gospels, it's likely you don't appreciate being called "pharisaical." Most of the time in the gospels, the Pharisees come off as niggling legalists who oppose Jesus -- ostensibly because he refuses to honor or abide by their strict traditions, but actually because they see him as calling for a new order that...
Start your risk free trial to view the entire installment!
START YOUR RISK-FREE TRIAL
---