The Coaching Voice 1 John 5:1-6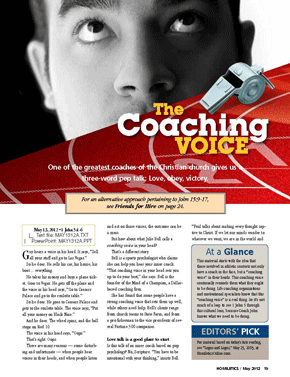 One of the greatest coaches of the Christian church gives us a three-word pep talk: Love, obey, victory.
At a Glance

This material starts with the idea that those involved in athletic contests not only have a coach in the face, but a "coaching voice" in their heads. This coaching voice continually reminds them what they ought to be doing. Life coaching organizations and motivational specialists know that this "coaching voice" is a real thing. So it's not much of a leap to see 1 John 5 through this cultural lens, because Coach John knows what we need to be doing.


Editors' Pick

For material based on today's Acts reading, see "Logos and Logos," May 23, 2003, at HomileticsOnline.com.

Guy hears a voice in his head. It says, "Sell all your stuff and go to Las Vegas."

So he does. He sells his car, his house, his boat ... everything.

He takes his money and buys a plane ticket. Goes to Vegas. He gets off the plane and the voice in his head says, "Go to Caesars Palace and go to the roulette table."

So he does. He goes to Caesars Palace and gets to the roulette table. The voice says, "Put all...
Start your risk free trial to view the entire installment!
START YOUR RISK-FREE TRIAL
---