Love Lessons 1 John 4:7-21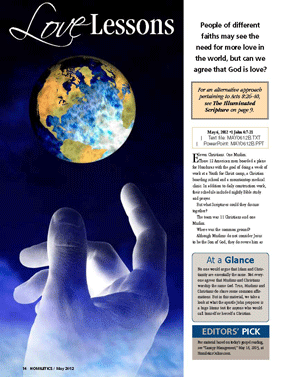 People of different faiths may see the need for more love in the world, but can we agree that God is love?
At a Glance

No one would argue that Islam and Christianity are essentially the same. Not everyone agrees that Muslims and Christians worship the same God. True, Muslims and Christians do share some common affirmations. But in this material, we take a look at what the apostle John proposes is a huge litmus test for anyone who would call himself or herself a Christian.


Editors' Pick

For material based on today's gospel reading, see "Canopy Management," May 18, 2003, at HomileticsOnline.com.


Eleven Christians. One Muslim.

These 12 American men boarded a plane for Honduras with the goal of doing a week of work at a Youth for Christ camp, a Christian boarding school and a mountaintop medical clinic. In addition to daily construction work, their schedule included nightly Bible study and prayer.

But what Scriptures could they discuss together?

The team was 11 Christians and one Muslim.

Where was the common ground?

Although Muslims do not consider Jesus to be the Son of God, they do revere...
Start your risk free trial to view the entire installment!
START YOUR RISK-FREE TRIAL
---