Jesus Didn't Die a Digital Death 1 Corinthians 15:1-11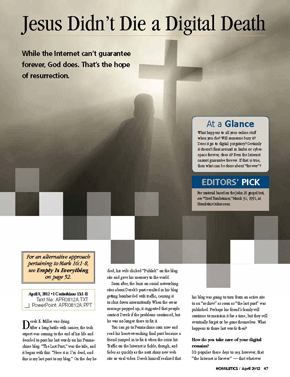 While the Internet can't guarantee forever, God does. That's the hope of resurrection.
At a Glance

What happens to all your online stuff when you die? Will someone bury it? Does it go to digital purgatory? Certainly it doesn't float around in limbo or cyberspace forever, does it? Even the Internet cannot guarantee forever. If that is true, then what can be done about "forever"?


Editors' Pick

For material based on the John 20 gospel text, see "Used Tombstones," March 31, 1991, at HomileticsOnline.com.


Derek K. Miller was dying.

After a long battle with cancer, the tech expert was coming to the end of his life and decided to post his last words on his Penmachine blog. "The Last Post," was the title, and it began with this: "Here it is. I'm dead, and this is my last post to my blog." On the day he died, his wife clicked "Publish" on the blog site and gave his memory to the world.

Soon after, the buzz on social networking sites about Derek's post resulted in his blog getting bombarded with traffic, causing it to shut down intermittently. When the error message popped up, it...
Start your risk free trial to view the entire installment!
START YOUR RISK-FREE TRIAL
---