Last Meal Before Redemption Exodus 12:1-4, (5-10), 11-14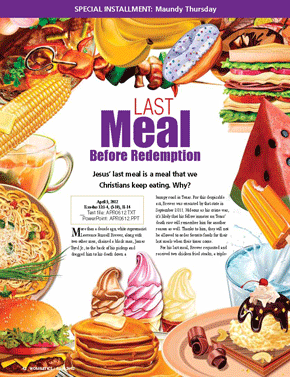 Special Installment: Maundy Thursday

Jesus' last meal is a meal that we Christians keep eating. Why?
At a Glance

Some artists have taken to creating images of the last meals that prisoners eat before they're executed. One even observed that the meals, in a way, seem to reflect the characters of the convicts themselves. From this discussion, we move to the last meal Jesus ate before he died, and consider how it, too, is an image of who he was and what he was all about. Then we close, remembering that Jesus gave us a meal to eat, as well.


Editors' Pick

For material based on the gospel reading, see "Thursday Theology," March 20, 2008, at HomileticsOnline.com.


More than a decade ago, white supremacist Lawrence Russell Brewer, along with two other men, chained a black man, James Byrd Jr., to the back of his pickup and dragged him to his death down a bumpy road in Texas. For this despicable act, Brewer was executed by that state in September 2011. Hideous as his crime was, it's likely that his fellow inmates on Texas' death row will remember him for another reason as well. Thanks to him,...
Start your risk free trial to view the entire installment!
START YOUR RISK-FREE TRIAL
---