The Pillar of Fire Cloud Exodus 14:19-31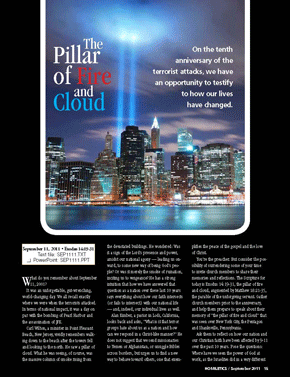 On the tenth anniversary of the terrorist attacks, we have an opportunity to testify to how our lives have changed.
At a Glance

A 10th anniversary of anything is important, and when that anniversary happens to be something like 9-11, it's even more important and when it lands on a Sunday -- well, you can't ignore it. And Homiletics is not ignoring it.


Editors' Pick

For material based on today's gospel text, see "Dirty Jobs," September 14, 2008, at HomileticsOnline.com.


What do you remember about September 11, 2001?

It was an unforgettable, gut-wrenching, world-changing day. We all recall exactly where we were when the terrorists attacked. In terms of national impact, it was a day on par with the bombing of Pearl Harbor and the assassination of JFK.

Carl Wilton, a minister in Point Pleasant Beach, New Jersey, vividly remembers walking down to the beach after the towers fell and looking to the north. He saw a pillar of cloud. What he was seeing, of course, was the massive column of smoke rising from the devastated buildings. He wondered: Was it a sign of the Lord's presence and power, amidst our national...
Start your risk free trial to view the entire installment!
START YOUR RISK-FREE TRIAL
---