Feed the Heart John 14:1-14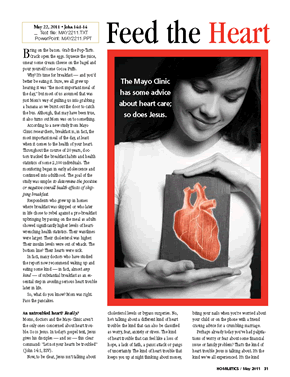 The Mayo Clinic has some advice about heart care; so does Jesus.

At a Glance

New research shows that skipping breakfast can have nasty effects on the health of your heart. Although a healthy diet overall is key, it looks like one meal might just be most critical of all. Mom always said breakfast was the most important meal of the day. It turns out she was right.


Editors' Pick

For a different approach to the epistle reading for today (1 Peter 2:2-10), see "Rock Bottom Living," May 5, 1996, in the Homiletics archives, HomileticsOnline.com. Search by Date or by Scripture.


Bring on the bacon. Grab the Pop-Tarts. Crack open the eggs. Squeeze the juice, smear some cream cheese on the bagel and pour yourself some Cocoa Puffs.

Why? It's time for breakfast - and you'd better be eating it. Sure, we all grew up hearing it was "the most important meal of the day," but most of us assumed that was just Mom's way of guilting us into grabbing a banana as we burst out the door to catch the bus. Although, that may have been true, it also turns out Mom was on to...
Start your risk free trial to view the entire installment!
START YOUR RISK-FREE TRIAL
---