The Meal 1 Corinthians 11:23-26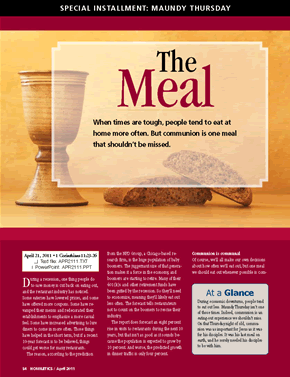 When times are tough, people tend to eat at home more often. But communion is one meal that shouldn't be missed.

At a Glance

During economic downturns, people tend to eat out less. Maundy Thursday isn't one of those times. Indeed, communion is an eating-out experience we shouldn't miss. On that Thursday night of old, communion was as important for Jesus as it was for his disciples. It was his last meal on earth, and he sorely needed his disciples to be with him.


Editors' Pick

If you're interested in preaching on the gospel text, see "Thursday Theology" (March 20, 2008), which offers ideas for the Maundy Thursday service itself.


During a recession, one thing people do to save money is cut back on eating out, and the restaurant industry has noticed.

Some eateries have lowered prices, and some have offered more coupons. Some have revamped their menus and redecorated their establishments to emphasize a more casual feel. Some have increased advertising to lure diners to come in more often. Those things have helped in the short term, but if a recent 10-year forecast is to be believed, things could get...
Start your risk free trial to view the entire installment!
START YOUR RISK-FREE TRIAL
---