Recall The Call Genesis 12:1-4a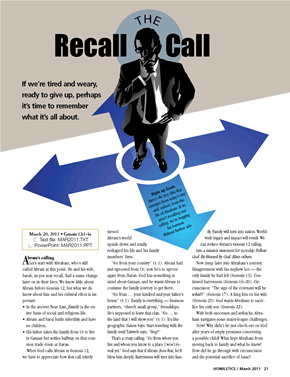 If we're tired and weary, ready to give up, perhaps it's time to remember what it's all about.

At a Glance

In The Right Road: Life Choices for Clergy, author and physician Dr. Gwen Wagstrom Halaas suggests — and recent research coming out of Duke University confirms (as do independent denominational studies) — that clergy are not only experiencing burnout in unprecedented numbers, but their health is suffering as a result. A study of Abram's call is helpful not only for clergy but for all of God's children who endeavor to be faithful to their vocation. And it can't hurt to explain clergy burnout to the congregation, to identify its causes and to suggest a possible cure.


Editors' Pick

For a different approach to this same text (actually, Genesis 12:1-9), we suggest looking at "Faith Rhythms," June 9, 2002. If you prefer to preach from the John text, see "Spiritual RealAge," June 18, 2000.


Right up front:

Here's the key idea that emerges from today's text and, indeed, from the life of Abraham: If we aren't recalling our calling, we're begging for burnout. Without further ado:

Abram's...
Start your risk free trial to view the entire installment!
START YOUR RISK-FREE TRIAL
---