The Panoramic Vision of God Habakkuk 1:1-4; 2:1-4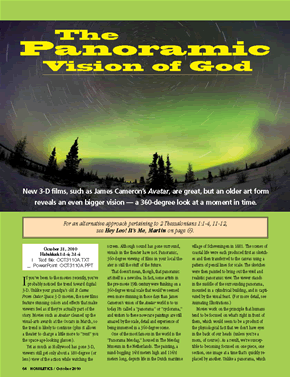 New 3-D films, such as James Cameron's Avatar, are great, but an older art form reveals an even bigger vision — a 360-degree look at a moment in time.

If you've been to the movies recently, you've probably noticed the trend toward digital 3-D. Unlike your grandpa's old It Came From Outer Space 3-D movies, the new films feature stunning colors and effects that make viewers feel as if they're actually part of the story. Movies such as Avatar cleaned up the visual-arts awards at the Oscars in March, so the trend is likely to continue (plus it allows a theater to charge a little more to "rent" you the space-age-looking glasses).

Yet as much as Hollywood has gone 3-D, viewers still get only about a 180-degree (or less) view of the action while watching the screen. Although sound has gone surround, visuals in the theater have not. Panoramic, 360-degree viewing of films in your local theater is still the stuff of the future.

That doesn't mean, though, that panoramic art itself is a new idea. In fact, some artists in the pre-movie 19th century were thinking on a 360-degree visual scale that would've seemed even more stunning in those days...
Start your risk free trial to view the entire installment!
START YOUR RISK-FREE TRIAL
---