Limping to the Line Philippians 3:4b-14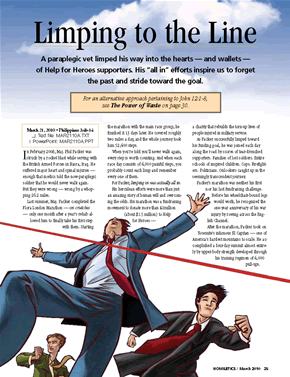 A paraplegic vet limped his way into the hearts — and wallets — of Help for Heroes supporters. His "all in" efforts inspire us to forget the past and stride toward the goal.

In February 2008, Maj. Phil Packer was struck by a rocket blast while serving with the British Armed Forces in Basra, Iraq. He suffered major heart and spinal injuries — enough that medics told the now-paraplegic soldier that he would never walk again.

But they were wrong — wrong by a whopping 26.2 miles.

Last summer, Maj. Packer completed the Flora London Marathon — on crutches — only one month after a year's rehab allowed him to finally take his first step with them. Starting the marathon with the main race group, he finished it 13 days later. He covered roughly two miles a day, and the whole journey took him 52,400 steps.

When you're told you'll never walk again, every step is worth counting. And when each race day consists of 4,000 painful steps, you probably count each limp and remember every one of them.

For Packer, limping in was actually all in.

His herculean efforts were more than just an amazing story of human will and overcoming the odds. His marathon was a fundraising movement ...
Start your risk free trial to view the entire installment!
START YOUR RISK-FREE TRIAL
---