An Iconoclastic Christmas Luke 1:39-45 (46-55)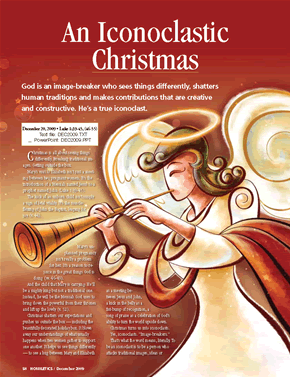 God is an image-breaker who sees things differently, shatters human traditions and makes contributions that are creative and constructive. He's a true iconoclast.

Christmas is all about seeing things differently. Breaking traditional images. Getting outside the box.

Mary's visit to Elizabeth isn't just a meeting between two pregnant women. It's the introduction of a Messiah named Jesus to a prophet named John (Luke 1:39-45).

The kick of an unborn child isn't simply a sign of fetal vitality. It's the muscle-flexing of John the Baptist, leaping for joy (v. 44).

Mary's unplanned pregnancy isn't really a problem for her. It's a reason to rejoice in the great things God is doing (vv. 46-49).

And the child that Mary is carrying: He'll be a mighty king but not a traditional one. Instead, he will be the Messiah God uses to bring down the powerful from their thrones and lift up the lowly (v. 52).

Christmas shatters our expectations and pushes us outside the box — including the beautifully decorated holiday box. It blows away our understandings of what usually happens when two women gather to support one another. It helps us see things differently — to see a...
Start your risk free trial to view the entire installment!
START YOUR RISK-FREE TRIAL
---