Shall We Dance? 2 Samuel 6:1-5, 12b-19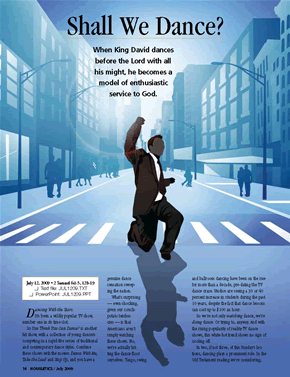 When King David dances before the Lord with all his might, he becomes a model of enthusiastic service to God.
Dancing With the Stars.

It's been a wildly popular TV show, number one in its time slot.

So You Think You Can Dance? is another hit show, with a collection of young dancers competing in a rapid-fire series of traditional and contemporary dance styles. Combine these shows with the movies Dance With Me, Take the Lead and Step Up, and you have a genuine dance sensation sweeping the nation.

What's surprising — even shocking, given our couch-potato tendencies — is that Americans aren't simply watching these shows. No, we're actually hitting the dance floor ourselves. Tango, swing and ballroom dancing have been on the rise for more than a decade, pre-dating the TV dance craze. Studios are seeing a 30 or 40 percent increase in students during the past 10 years, despite the fact that dance lessons can cost up to $100 an hour.

So we're not only watching dance, we're doing dance. Or trying to, anyway. And with the rising popularity of reality-TV dance shows, this white-hot trend shows no sign of...
Start your risk free trial to view the entire installment!
START YOUR RISK-FREE TRIAL
---