Dead Man Down Under Luke 24:36b-48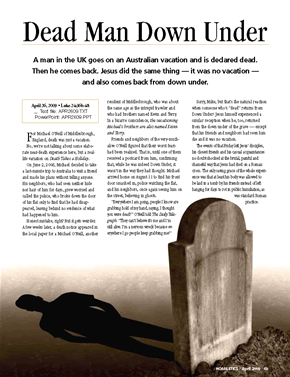 A man in the UK goes on an Australian vacation and is declared dead. Then he comes back. Jesus did the same thing — it was no vacation — and also comes back from down under.

For Michael O'Neill of Middlesbrough, England, death was just a vacation.

No, we're not talking about some elaborate near-death experience here, but a reallife variation on Death Takes a Holiday.

On June 2, 2008, Michael decided to take a last-minute trip to Australia to visit a friend and made his plans without telling anyone. His neighbors, who had seen neither hide nor hair of him for days, grew worried and called the police, who broke down the door of his flat only to find that he had disappeared, leaving behind no evidence of what had happened to him.

Honest mistake, right? But it gets weirder. A few weeks later, a death notice appeared in the local paper for a Michael O'Neill, another resident of Middlesbrough, who was about the same age as the intrepid traveler and who had brothers named Kevin and Terry. In a bizarre coincidence, the vacationing Michael's brothers are also named Kevin and Terry.

Friends and neighbors of the very-much- alive O'Neill...
Start your risk free trial to view the entire installment!
START YOUR RISK-FREE TRIAL
---