Jesus Trends Mark 11:1-11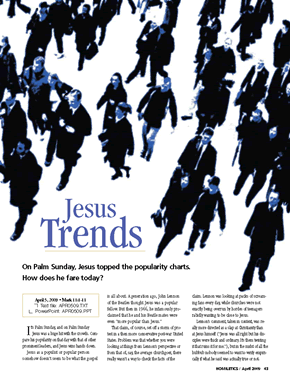 On Palm Sunday, Jesus topped the popularity charts. How does he fare today?

It's Palm Sunday, and on Palm Sunday

Jesus was a huge hit with the crowds. Compare his popularity on that day with that of other prominent leaders, and Jesus wins hands down.

Jesus as a populist or popular person somehow doesn't seem to be what the gospel is all about. A generation ago, John Lennon of the Beatles thought Jesus was a popular fellow. But then in 1966, he infamously proclaimed that he and his Beatle mates were even "more popular than Jesus."

That claim, of course, set off a storm of protest in a then more conservative post-war United States. Problem was that whether you were looking at things from Lennon's perspective or from that of, say, the average churchgoer, there really wasn't a way to check the facts of the claim. Lennon was looking at packs of screaming fans every day, while churches were not exactly being overrun by hordes of teenagers rabidly wanting to be close to Jesus.

Lennon's comment, taken in context, was really...
Start your risk free trial to view the entire installment!
START YOUR RISK-FREE TRIAL
---