A Little Help From Friends Mark 1:14-20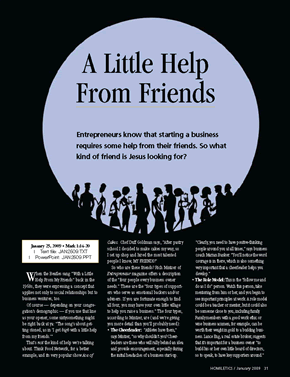 Entrepreneurs know that starting a business requires some help from their friends. So what kind of friend is Jesus looking for?

When the Beatles sang "With a Little Help From My Friends" back in the 1960s, they were expressing a concept that applies not only to social relationships but to business ventures, too.

Of course — depending on your congregation's demographic — if you use that line as your opener, some sixtysomething might be right back at ya: "The song's about getting stoned, as in 'I get high with a little help from my friends.'"

That's not the kind of help we're talking about. Think Food Network, for a better example, and its very popular show Ace of Cakes. Chef Duff Goldman says, "After pastry school I decided to make cakes my way, so I set up shop and hired the most talented people I know, MY FRIENDS!"

So who are these friends? Rich Mintzer of Entrepreneur magazine offers a description of the "four people every business owner needs." These are the "four types of supporters who serve as emotional backers and/or advisers. If you are fortunate enough to find all four, you may have your own little...
Start your risk free trial to view the entire installment!
START YOUR RISK-FREE TRIAL
---