The Memory of Baptism Mark 1:4-11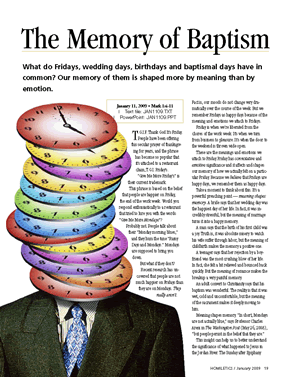 What do Fridays, wedding days, birthdays and baptismal days have in common? Our memory of them is shaped more by meaning than by emotion.

T.G.I.F. Thank God It's Friday.

People have been offering this secular prayer of thanksgiving for years, and the phrase has become so popular that it's attached to a restaurant chain, T.G.I. Friday's.

"Give Me More Friday's" is their current trademark.

This phrase is based on the belief that people are happier on Friday, the end of the work week. Would you respond enthusiastically to a restaurant that tried to lure you with the words "Give Me More Mondays"?

Probably not. People talk about their "Monday morning blues," and they hum the tune "Rainy Days and Mondays." Mondays are supposed to bring you down.

But what if they don't?

Recent research has uncovered that people are not much happier on Fridays than they are on Mondays. They really aren't. Fact is, our moods do not change very dramatically over the course of the week. But we remember Fridays as happy days because of the meaning and emotions we attach to Fridays.

Friday is when we're liberated from the chores of the work week. It's when ...
Start your risk free trial to view the entire installment!
START YOUR RISK-FREE TRIAL
---