The Last Lecture of Jesus Christ Mark 13:24-37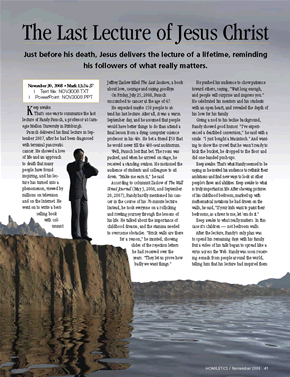 Just before his death, Jesus delivers the lecture of a lifetime, reminding his followers of what really matters.

Keep awake.

That's one way to summarize the last lecture of Randy Pausch, a professor at Carnegie Mellon University in Pittsburgh.

Pausch delivered his final lecture in September 2007, after he had been diagnosed with terminal pancreatic cancer. He showed a love of life and an approach to death that many people have found inspiring, and his lecture has turned into a phenomenon, viewed by millions on television and on the Internet. He went on to write a best-selling book with columnist Jeffrey Zaslow titled The Last Lecture, a book about love, courage and saying goodbye.

On Friday, July 25, 2008, Pausch succumbed to cancer at the age of 47.

He expected maybe 150 people to attend his last lecture. After all, it was a warm September day, and he assumed that people would have better things to do than attend a final lesson from a dying computer science professor in his 40s. He bet a friend $50 that he would never fill the 400-seat auditorium.

Well, Pausch lost that bet. The room was packed,...
Start your risk free trial to view the entire installment!
START YOUR RISK-FREE TRIAL
---