The Leviticus Lesson Leviticus 19:1-2, 15-18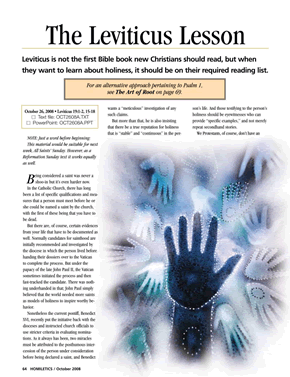 Leviticus is not the first Bible book new Christians should read, but when they want to learn about holiness, it should be on their required reading list.

NOTE: Just a word before beginning: This material would be suitable for next week, All Saints' Sunday. However, as a Reformation Sunday text it works equally as well.

Being considered a saint was never a shoo-in but it's even harder now.

In the Catholic Church, there has long been a list of specific qualifications and measures that a person must meet before he or she could be named a saint by the church, with the first of these being that you have to be dead.

But there are, of course, certain evidences from your life that have to be documented as well. Normally candidates for sainthood are initially recommended and investigated by the diocese in which the person lived before handing their dossiers over to the Vatican to complete the process. But under the papacy of the late John Paul II, the Vatican sometimes initiated the process and then fast-tracked the candidate. There was nothing underhanded in that; John Paul simply believed that the world needed more saints as models of holiness...
Start your risk free trial to view the entire installment!
START YOUR RISK-FREE TRIAL
---