Pay-What-You-Can Christianity Romans 12:9-21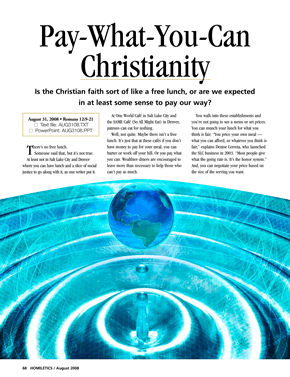 Is the Christian faith sort of like a free lunch, or are we expected in at least some sense to pay our way?

There's no free lunch.

Someone said that, but it's not true.

At least not in Salt Lake City and Denver where you can have lunch and a slice of social justice to go along with it, as one writer put it.

At One World Café in Salt Lake City and the SAME Café (So All Might Eat) in Denver, patrons can eat for nothing.

Well, not quite. Maybe there isn't a free lunch. It's just that at these cafés if you don't have money to pay for your meal, you can barter or work off your bill. Or you pay what you can. Wealthier diners are encouraged to leave more than necessary to help those who can't pay as much.

You walk into these establishments and you're not going to see a menu or set prices. You can munch your lunch for what you think is fair. "You price your own meal — what you can afford, or whatever you think is fair," explains Denise Cerreta, who launched the SLC business in 2003. "Most people give what the going rate is. It's the honor system." And, you can negotiate your price based on the size of...
Start your risk free trial to view the entire installment!
START YOUR RISK-FREE TRIAL
---