The ConLang Confession Matthew 16:13-20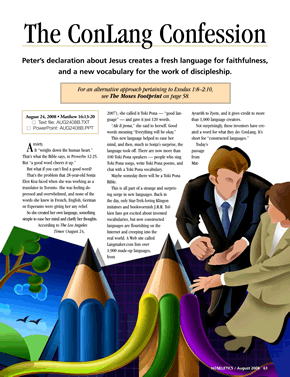 Peter's declaration about Jesus creates a fresh language for faithfulness, and a new vocabulary for the work of discipleship.

It "weighs down the human heart." That's what the Bible says, in Proverbs 12:25. But "a good word cheers it up."

But what if you can't find a good word?

That's the problem that 28-year-old Sonja Elen Kisa faced when she was working as a translator in Toronto. She was feeling depressed and overwhelmed, and none of the words she knew in French, English, German or Esperanto were giving her any relief.

So she created her own language, something simple to ease her mind and clarify her thoughts.

According to The Los Angeles Times (August 24, 2007), she called it Toki Pona — "good language" — and gave it just 120 words.

"Ale li pona," she said to herself. Good words meaning "Everything will be okay."

This new language helped to ease her mind, and then, much to Sonja's surprise, the language took off. There are now more than 100 Toki Pona speakers — people who sing Toki Pona songs, write Toki Pona...
Start your risk free trial to view the entire installment!
START YOUR RISK-FREE TRIAL
---