Jesus and the Venus Rosewater Dish Matthew 13:31-33,44-52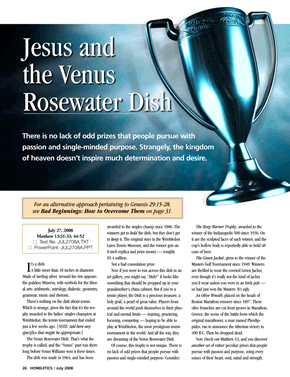 There is no lack of odd prizes that people pursue with passion and single-minded purpose. Strangely, the kingdom of heaven doesn't inspire much determination and desire.

It's a dish.

A little more than 18 inches in diameter. Made of sterling silver. Around the rim appears the goddess Minerva, with symbols for the liberal arts: arithmetic, astrology, dialectic, geometry, grammar, music and rhetoric.

There's nothing on the dish about tennis. Which is strange, given the fact that it's the trophy awarded to the ladies' singles champion at Wimbledon, the tennis tournament that ended just a few weeks ago. [NOTE: Add here any specifics that might be appropriate.]

The Venus Rosewater Dish. That's what the trophy is called, and the "Venus" part was there long before Venus Williams won it three times.

The dish was made in 1864, and has been awarded to the singles champ since 1886. The winners get to hold the dish, but they don't get to keep it. The original stays in the Wimbledon Lawn Tennis Museum, and the winner gets an 8-inch replica and prize money — roughly $1.4 million.

Not a bad consolation prize.

Now if...
Start your risk free trial to view the entire installment!
START YOUR RISK-FREE TRIAL
---