2K Paul Romans 10:5-15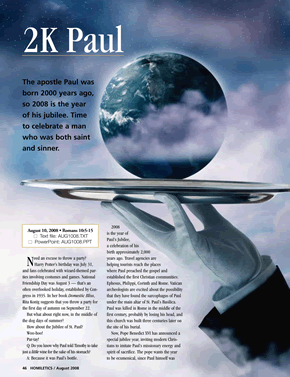 The apostle Paul was born 2000 years ago, so 2008 is the year of his jubilee. Time to celebrate a man who was both saint and sinner.

Need an excuse to throw a party?

Harry Potter's birthday was July 31, and fans celebrated with wizard-themed parties involving costumes and games. National Friendship Day was August 3 — that's an often overlooked holiday, established by Congress in 1935. In her book Domestic Bliss, Rita Konig suggests that you throw a party for the first day of autumn on September 22.

But what about right now, in the middle of the dog days of summer?

How about the Jubilee of St. Paul?

Woo-hoo!

Par-tay!

Q: Do you know why Paul told Timothy to take just a little wine for the sake of his stomach?

A: Because it was Paul's bottle.

2008 is the year of Paul's Jubilee, a celebration of his birth approximately 2,000 years ago. Travel agencies are helping tourists reach the places where Paul preached the gospel and established the first Christian communities: Ephesus, Philippi, Corinth and Rome. Vatican archeologists are excited about the possibility that they have found the sarcophagus of Paul under the main altar of ...
Start your risk free trial to view the entire installment!
START YOUR RISK-FREE TRIAL
---