Three Signs of an Abundant Life John 10:1-10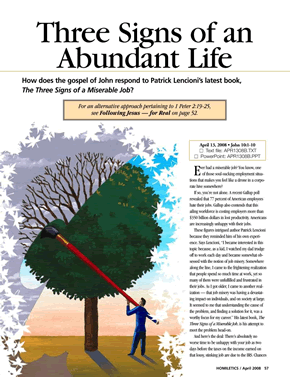 How does the gospel of John respond to Patrick Lencioni's latest book, The Three Signs of a Miserable Job?

Ever had a miserable job? You know, one of those soul-sucking employment situations that makes you feel like a drone in a corporate hive somewhere?

If so, you're not alone. A recent Gallup poll revealed that 77 percent of American employees hate their jobs. Gallup also contends that this ailing workforce is costing employers more than $350 billion dollars in lost productivity. Americans are increasingly unhappy with their jobs.

These figures intrigued author Patrick Lencioni because they reminded him of his own experience. Says Lencioni, "I became interested in this topic because, as a kid, I watched my dad trudge off to work each day and became somewhat obsessed with the notion of job misery. Somewhere along the line, I came to the frightening realization that people spend so much time at work, yet so many of them were unfulfilled and frustrated in their jobs. As I got older, I came to another realization — that job misery was having a devastating impact on...
Start your risk free trial to view the entire installment!
START YOUR RISK-FREE TRIAL
---