Soundtrack for Living Psalm 40:1-11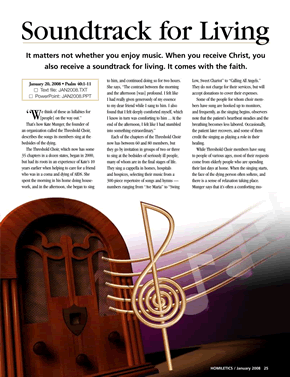 It matters not whether you enjoy music. When you receive Christ, you also receive a soundtrack for living. It comes with the faith.

"We think of these as lullabies for [people] on the way out."

That's how Kate Munger, the founder of an organization called the Threshold Choir, describes the songs its members sing at the bedsides of the dying.

The Threshold Choir, which now has some 35 chapters in a dozen states, began in 2000, but had its roots in an experience of Kate's 10 years earlier when helping to care for a friend who was in a coma and dying of AIDS. She spent the morning in his home doing housework, and in the afternoon, she began to sing to him, and continued doing so for two hours. She says, "The contrast between the morning and the afternoon [was] profound. I felt like I had really given generously of my essence to my dear friend while I sang to him. I also found that I felt deeply comforted myself, which I know in turn was comforting to him ... At the end of the afternoon, I felt like I had stumbled into something extraordinary."

Each of the chapters of the Threshold Choir now has between 60 and 80...
Start your risk free trial to view the entire installment!
START YOUR RISK-FREE TRIAL
---