Basking in Reflected Glory Luke 18:1-8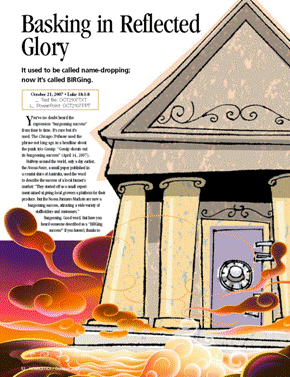 It used to be called name-dropping; now it's called BIRGing.

You've no doubt heard the expression "burgeoning success" from time to time. It's rare but it's used. The Chicago Tribune used the phrase not long ago in a headline about the punk trio Gossip: "Gossip shouts out its burgeoning success" (April 14, 2007).

Halfway around the world, only a day earlier, the Noosa News, a small paper published in a coastal shire of Australia, used the word to describe the success of a local farmer's market: "They started off as a small experiment aimed at giving local growers a platform for their produce. But the Noosa Farmers Markets are now a burgeoning success, attracting a wide variety of stallholders and customers."

Burgeoning. Good word. But have you heard someone described as a "BIRGing success?" If you haven't, thanks to author Jake Halpern, now you may.

In his book Fame Junkies, Halpern brings the psychological concept of BIRGing down to the pop-culture level. BIRG is ...
Start your risk free trial to view the entire installment!
START YOUR RISK-FREE TRIAL
---