All Shook Up Luke 19:28-40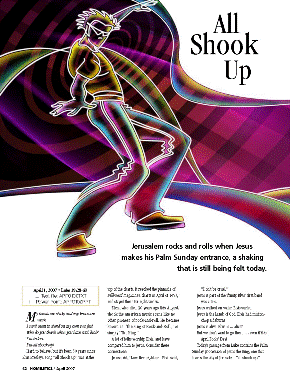 Jerusalem rocks and rolls when Jesus makes his Palm Sunday entrance, a shaking that is still being felt today.

My hands are shaky and my knees are weak

I can't seem to stand on my own two feet

Who do you thank when you have such luck?

I'm in love

I'm all shook up!

Hard to believe, but it's been 50 years since Elvis Presley's song "All Shook Up" was at the top of the charts. It reached the pinnacle of Billboard magazine's charts in April of 1957, and stayed there for eight weeks.

Elvis, who died 30 years ago this August, shook the American music scene like no other pioneer of rock-and-roll. He became known as "The King of Rock-and-Roll," or simply "The King."

A lot of folks worship Elvis, and have compared him to Jesus. Consider these connections:

Jesus said, "Love thy neighbor." Elvis said, "Don't be cruel."

Jesus is part of the Trinity. Elvis' first band was a trio.

Jesus walked on water. Elvis surfed.

Jesus is the Lamb of God. Elvis had mutton-chop sideburns.

Jesus is alive. Elvis is ......
Start your risk free trial to view the entire installment!
START YOUR RISK-FREE TRIAL
---