Theophilia Isaiah 55:1-9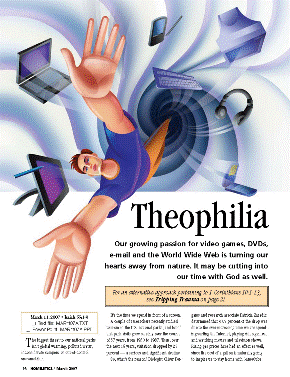 Our growing passion for video games, DVDs, e-mail and the World Wide Web is turning our hearts away from nature. It may be cutting into our time with God as well.

The biggest threat to our national parks isn't global warming, polluted water, inconsiderate campers or out-of-control snowmobilers.

It's the time we spend in front of a screen.

A couple of researchers recently studied tourism in the U.S. national parks, and found that park visits grew steadily over the course of 57 years, from 1930 to 1987. Then, over the next 16 years, visitation dropped by 25 percent — a serious and significant decline.

So, what's the reason? Biologist Oliver Pergams and research associate Patricia Zaradic determined that 97.5 percent of the drop was due to the ever-increasing time we are spending surfing the Internet, playing video games, and watching movies and television shows. Rising gas prices have had an effect as well, since the cost of a gallon is naturally going to inspire us to stay home with GameCube instead of drive to Yellowstone. In the year 2003, the average American was spending 327 more hours in front of the screen than he was...
Start your risk free trial to view the entire installment!
START YOUR RISK-FREE TRIAL
---