Capybara — It's What's for Dinner Philippians 3:17-4:1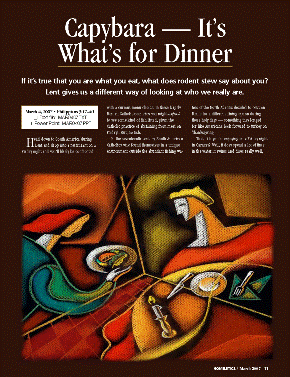 If it's true that you are what you eat, what does rodent stew say about you? Lent gives us a different way of looking at who we really are.

Head down to South America during Lent and drop into a restaurant on a Friday night and you'll likely be confronted with a curious menu choice. In these largely Roman Catholic countries you might expect to see some kind of fish listed, given the Catholic practice of abstaining from meat on Fridays. But, no fish.

In the seventeenth century, South American Catholics who found themselves in a unique environment outside the abundant fishing waters of the North Atlantic decided to petition Rome for a different dining option during these holy days — something they longed for like Americans look forward to turkey on Thanksgiving.

That dish you're enjoying on a Friday night in Caracas? Well, it does spend a lot of time in the water, it swims and dives really well, and it has webbed feet, so it's kind of like a fish — except that it's a mammal — a rodent, to be exact. It's a capybara, a 100-pound water-dwelling rodent of unusual size.

We're...
Start your risk free trial to view the entire installment!
START YOUR RISK-FREE TRIAL
---