Dog Ugly! Luke 6:17-26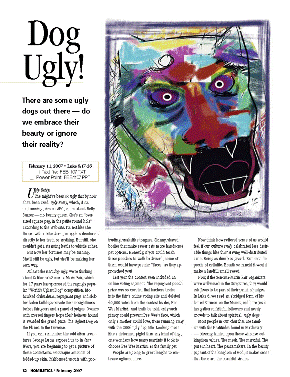 There are some ugly dogs out there — do we embrace their beauty or ignore their reality?

Ugly Betty.

She might've been so ugly that by now she's been axed. Ugly Betty, which, if it's still running, airs on ABC, and is about Betty Suarez — no beauty queen. She's an "oversized square peg, in the petite round hole" according to the Web site. It's not like she flosses with a bike chain, or applies deodorant directly to her teeth or anything. But still, she couldn't get a steaming kettle to whistle at her.

But now her fortunes may be turning. She'll still be ugly, but she'll be making her own way.

At least she isn't dog ugly. We're thinking about California's Sonoma-Marin Fair, which for 17 years has sponsored the ragingly popular "World's Ugliest Dog" competition. Mohawked chihuahuas, repugnant pugs and slobber-laden bulldogs parade their unsightliness before fair-goers and a panel of judges. Owners with crossed fingers hope their heinous hound is awarded the grand prize: The...
Start your risk free trial to view the entire installment!
START YOUR RISK-FREE TRIAL
---