Nevaeh Luke 3:15-17, 21-22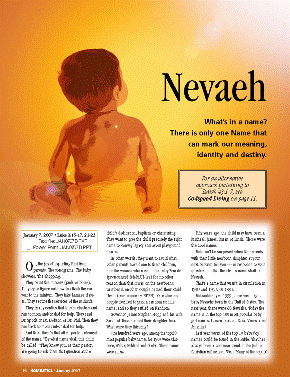 What's in a name? There is only one Name that can mark our meaning, identity and destiny.

Oh, the joy of expecting first-time parents. The sonograms. The baby showers. The shopping.

They paint the nursery (pink or blue?). They try to figure out how to attach the car seat to the minivan. They take Lamaze classes. They secure the services of the midwife.

They finally confess that they're clueless and run to mom and/or dad for help. They read Dr. Spock or Dr. Dobson or Dr. Phil. Then they run back to mom and/or dad for help.

And then there's that all-important element of the name. "By what name shall this child be called." They know you, as their pastor, are going to ask them that question at the child's dedication, baptism or christening. They want to give the child precisely the right name to convey legacy and avoid playground insults.

In other words, they want to avoid what other parents have done to their children, like the woman who named her baby Female (pronounced feh-MAH-lee) for no other reason than that it was on the newborn's...
Start your risk free trial to view the entire installment!
START YOUR RISK-FREE TRIAL
---