The Congenial Community Colossians 3:12-17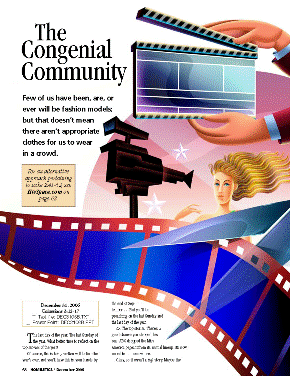 Few of us have been, are, or ever will be fashion models; but that doesn't mean there aren't appropriate clothes for us to wear in a crowd.

The last day of the year. The last Sunday of the year. What better time to reflect on the top stories of the year!

Of course, this is being written well before the year's over, and you'll have this in your hands by the end of September … But you'll be preaching on the last Sunday and the last day of the year.

So. The top stories. There's a good chance you skipped this one: ABC dropped the Miss America pageant from its annual lineup. It's now on cable — somewhere.

Okay, so it wasn't a top story. Maybe the bottom story of all the top stories.

We smile and smirk. But in the '50s and '60s, advertisers loved the Miss America Pageant. Why? Back in the day, Miss America was a huge pop culture event, garnering roughly 40 percent of American households who gathered to watch this annual display of pulchritudinous flesh and, er — talent.

To put this in perspective, the Super Bowl generally airs in 40-45 percent of American households...
Start your risk free trial to view the entire installment!
START YOUR RISK-FREE TRIAL
---