The King Is Back! Mark 10:46-52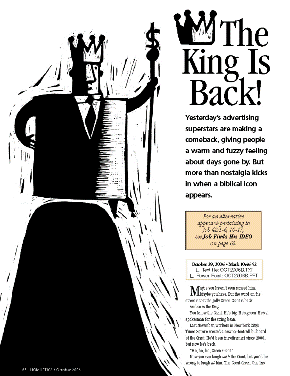 Yesterday's advertising superstars are making a comeback, giving people a warm and fuzzy feeling about days gone by. But more than nostalgia kicks in when a biblical icon appears.

Maybe you haven't even missed him.

Maybe you have. But the word on the street is that the Jolly Green Giant is back.

And so is the King.

You know the Giant. He's big. He's green. He's a spokesman for the string bean.

Last November, workers in New York City's Times Square erected a new 25-foot-tall billboard of the Giant. He'd been in retirement since 2000, but now he's back.

"Ho, ho, ho, Green Giant!"

Now you can laugh with the Giant, but you'd be wrong to laugh at him. The Great Green One has moved an incredible amount of vegetables over the years, leading Advertising Age magazine to name him one of the top ad personalities of the 20th century. The Jolly Green Giant came in third, behind only the Marlboro Man and Ronald McDonald.

But the Giant is not the only old school advertising icon to return to the spotlight. The King is back as well!

Not Elvis.

The Burger King! You've probably seen him inserted into NFL football...
Start your risk free trial to view the entire installment!
START YOUR RISK-FREE TRIAL
---