Time to Talk Like a Pirate! James 3:1-12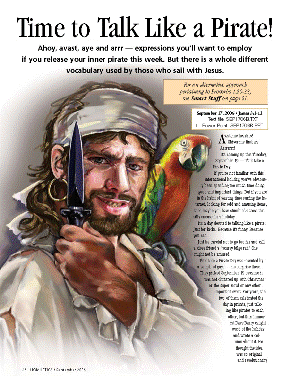 Ahoy, avast, aye and arrr — expressions you'll want to employ if you release your inner pirate this week. But there is a whole different vocabulary used by those who sail with Jesus.

Avast, me hearties!

Shiver me timbers!

Arrrrrrr!

It's coming up this Tuesday, September 19 — Talk Like a Pirate Day.

If you're not familiar with this international holiday, you've obviously been spending too much time doing good and important things. But if you are in the habit of wasting time surfing the Internet, looking for odd and amusing items, then maybe you have stumbled across this silly excuse for a holiday.

It's a day devoted to talking like a pirate. Just for kicks. Because it's funny. Because you can.

Just be careful not to go too far and call a close friend a "scurvy bilge rat." She might not be amused.

Talk Like a Pirate Day was invented by a couple of guys — no surprise there. They picked September 19 because it was not cluttered up with Christmas or the Super Bowl or any other important event. For years, the two of them celebrated the day in private, just talking like pirates to each other, but then humorist Dave Barry...
Start your risk free trial to view the entire installment!
START YOUR RISK-FREE TRIAL
---