Smart Stuff Proverbs 1:20-33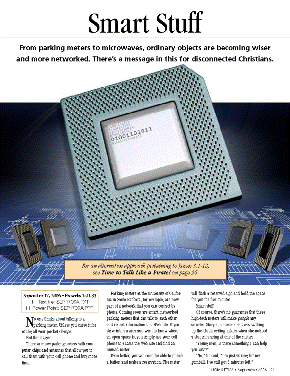 From parking meters to microwaves, ordinary objects are becoming wiser and more networked. There's a message in this for disconnected Christian.

No one thinks about talking to a parking meter. Unless you curse it for eating all your pocket change.

But think again.

There are now parking meters with computer chips and antennas that allow you to call them with your cell phone and buy more time.

Parking meters at the University of California in Santa Barbara, for example, are now part of a network that you can contact by phone. Coming soon are smart, networked parking meters that can talk to each other and report information to a Web site. If you drive into an area and want to know where an open space is, you simply use your cell phone to access the Web site and find an unused meter.

Even better, you will soon be able to punch a button and make a reservation. The meter will flash a reserved sign and hold the space for you for five minutes.

Smart stuff.

Of course, there's no guarantee that these high-tech meters will make people any smarter. Story is, a meter maid was walking up the block writing tickets when she noticed a student...
Start your risk free trial to view the entire installment!
START YOUR RISK-FREE TRIAL
---