The Interpreter Acts 2:1-21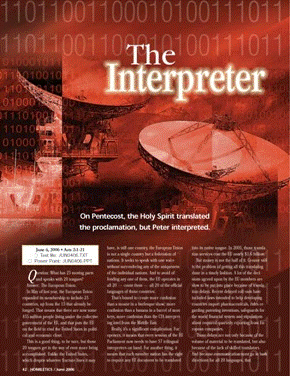 On Pentecost, the Holy Spirit translated the proclamation, but Peter interpreted.

Question: What has 25 moving parts and speaks with 20 tongues?

Answer: The European Union.

In May of last year, the European Union expanded its membership to include 25 countries, up from the 15 that already belonged. That means that there are now some 455 million people living under the collective government of the EU, and that puts the EU on the field to rival the United States in political and economic clout.

This is a good thing, to be sure, but those 20 tongues get in the way of even more being accomplished. Unlike the United States, which despite whatever fracture lines it may have, is still one country, the European Union is not a single country but a federation of nations. It seeks to speak with one voice without surrendering any of the uniqueness of the individual nations. And to avoid offending any one of them, the EU operates in all 20 — count them — all 20 of the official languages of those countries.

That's bound to create more confusion than a mouse in a...
Start your risk free trial to view the entire installment!
START YOUR RISK-FREE TRIAL
---