Life Value John 10:11-18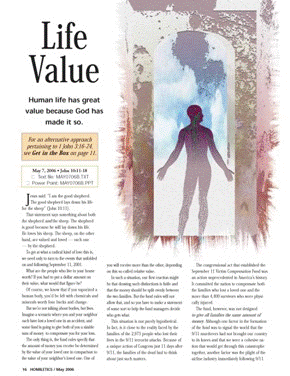 Human life has great value because God has made it so.
Jesus said: "I am the good shepherd.

The good shepherd lays down his life for the sheep" (John 10:11).

That statement says something about both the shepherd and the sheep. The shepherd is good because he will lay down his life. He loves his sheep. The sheep, on the other hand, are valued and loved — each one — by the shepherd.

To get at what a radical kind of love this is, we need only to turn to the events that unfolded on and following September 11, 2001.

What are the people who live in your house worth? If you had to put a dollar amount on their value, what would that figure be?

Of course, we know that if you vaporized a human body, you'd be left with chemicals and minerals worth four bucks and change.

But we're not talking about bodies, but lives. Imagine a scenario where you and your neighbor each have lost a loved one in an accident, and some fund is going to give both of you a sizable sum of money to compensate you for your loss.

The only thing is, the fund rules specify that the ...
Start your risk free trial to view the entire installment!
START YOUR RISK-FREE TRIAL
---