Change or Die Jeremiah 31:31-34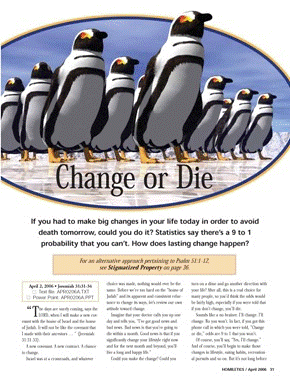 If you had to make big changes in your life today in order to avoid death tomorrow, could you do it? Statistics say there's a 9 to 1 probability that you can't. How does lasting change happen?
"The days are surely coming, says the LORD, when I will make a new covenant with the house of Israel and the house of Judah. It will not be like the covenant that I made with their ancestors … " (Jeremiah 31:31-33).

A new covenant. A new contract. A chance to change.

Israel was at a crossroads, and whatever choice was made, nothing would ever be the same. Before we're too hard on the "house of Judah" and its apparent and consistent reluctance to change its ways, let's review our own attitude toward change.

Imagine that your doctor calls you up one day and tells you, "I've got good news and bad news. Bad news is that you're going to die within a month. Good news is that if you significantly change your lifestyle right now and for the next month and beyond, you'll live a long and happy life."

Could you make the change? Could you turn on a dime and go another direction with your life? After all, this is a real choice for...
Start your risk free trial to view the entire installment!
START YOUR RISK-FREE TRIAL
---