Bling Bling 2 Kings 2:1-12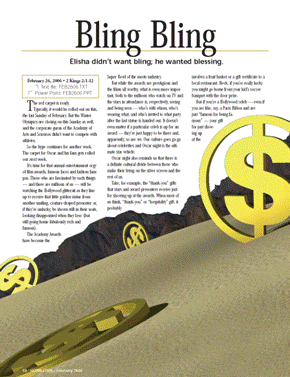 Elisha didn't want bling; he wanted blessing.

The red carpet is ready.

Typically, it would be rolled out on this, the last Sunday of February. But the Winter Olympics are closing on this Sunday as well, and the corporate gurus of the Academy of Arts and Sciences didn't want to compete with athletes.

So the hype continues for another week. The carpet for Oscar and his fans gets rolled out next week.

It's time for that annual entertainment orgy of film awards, famous faces and fashion faux pas. Those who are fascinated by such things — and there are millions of us — will be watching the Hollywood glitterati as they line up to receive that little golden statue from another smiling, couture-draped presenter or, if they're unlucky, be shown still in their seats, looking disappointed when they lose (but still going home fabulously rich and famous).

The Academy Awards have become the Super Bowl of the movie industry.

But while the awards are prestigious and the films all worthy, what is even more important,...
Start your risk free trial to view the entire installment!
START YOUR RISK-FREE TRIAL
---