Gold Glut 1 Corinthians 9:24-27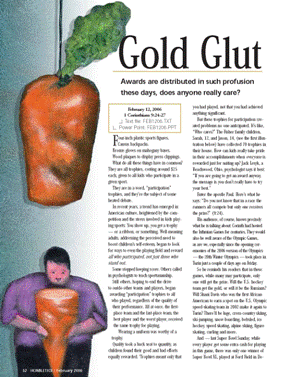 Awards are distributed in such profusion these days, does anyone really care?

Four-inch plastic sports figures.

Canvas backpacks.

Bronze gloves on mahogany bases.

Wood plaques to display press clippings.

What do all these things have in common? They are all trophies, costing around $25 each, given to all kids who participate in a given sport.

They are in a word, "participation" trophies, and they're the subject of some heated debate.

In recent years, a trend has emerged in American culture, heightened by the competition and the stress involved in kids playing sports: You show up, you get a trophy — or a ribbon, or something. Well-meaning adults, addressing the perceived need to boost children's self-esteem, began to look for ways to even the playing field and reward all who participated, not just those who stand out.

Some stopped keeping score. Others called in psychologists to teach sportsmanship.

Still others, hoping to end the drive to outdo other teams and players, began awarding "participation" trophies to all who...
Start your risk free trial to view the entire installment!
START YOUR RISK-FREE TRIAL
---