Deborah's Memoir Judges 4: 1-7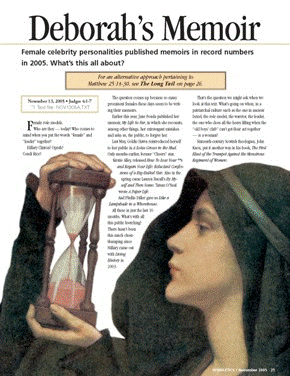 Female celebrity personalities published memoirs in record numbers in 2005. What's this all about?

Female role models.

Who are they — today? Who comes to mind when you put the words "female" and "leader" together?

Hillary Clinton? Oprah? Condi Rice?

The question comes up because so many prominent females these days seem to be writing their memoirs.

Earlier this year, Jane Fonda published her memoir, My Life So Far, in which she recounts, among other things, her extravagant mistakes and asks us, the public, to forgive her.

Last May, Goldie Hawn reintroduced herself to her public in A Lotus Grows in the Mud. Only months earlier, former "Cheers" star, Kirstie Alley, released How To Lose Your **s and Regain Your Life: Reluctant Confessions of a Big-Butted Star. Also in the spring came Lauren Bacall's By Myself and Then Some. Tatum O'Neal wrote A Paper Life.

And Phyllis Diller gave us Like a Lampshade in a Whorehouse.

All these in just the last 10 months. What's with all this public kvetching? There hasn't been this much...
Start your risk free trial to view the entire installment!
START YOUR RISK-FREE TRIAL
---