Fake News Mark 1:1-8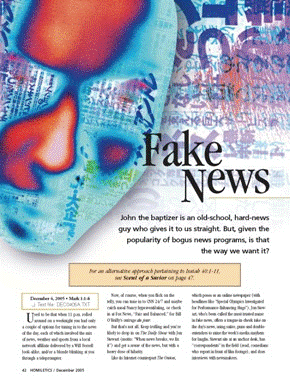 John the baptizer is an old-school, hard-news guy who gives it to us straight. But, given the popularity of bogus news programs, is that the way we want it?

Used to be that when 11 p.m. rolled around on a weeknight you had only a couple of options for tuning in to the news of the day, each of which involved the mix of news, weather and sports from a local network affiliate delivered by a Will Ferrell look-alike, and/or a blonde blinking at you through a teleprompter.

Now, of course, when you flick on the telly, you can tune in to CNN 24/7 and maybe catch nasal Nancy hyperventilating, or check in at Fox News, "Fair and Balanced," for Bill O'Reilly's outrage du jour.

But that's not all. Keep trolling and you're likely to drop in on The Daily Show with Jon Stewart (motto: "When news breaks, we fix it") and get a sense of the news, but with a heavy dose of hilarity.

Like its Internet counterpart The Onion, which poses as an online newspaper (with headlines like "Special Olympics Investigated for Performance-Enhancing Hugs"), Jon Stewart, who's been called the most trusted name in fake news, offers a tongue-in-cheek take on the day's news,...
Start your risk free trial to view the entire installment!
START YOUR RISK-FREE TRIAL
---