Pulaski's Empty Frame Exodus 20:1-4, 7-9, 12-20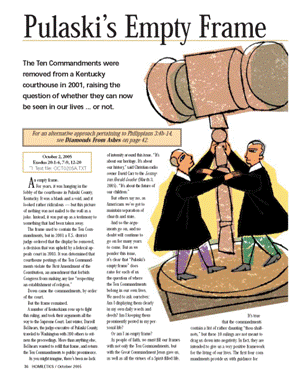 The Ten Commandments were removed from a Kentucky courthouse in 2001, raising the question of whether they can now be seen in our lives ... or not.

An empty frame.

For years, it was hanging in the lobby of the courthouse in Pulaski County, Kentucky. It was a blank and a void, and it looked rather ridiculous — but this picture of nothing was not nailed to the wall as a joke. Instead, it was put up as a testimony to something that had been taken away.

The frame used to contain the Ten Commandments, but in 2001 a U.S. district judge ordered that the display be removed, a decision that was upheld by a federal appeals court in 2003. It was determined that courthouse postings of the Ten Commandments violate the First Amendment of the Constitution, an amendment that forbids Congress from making any law "respecting an establishment of religion."

Down came the commandments, by order of the court.

But the frame remained.

A number of Kentuckians rose up to fight this ruling, and took their arguments all the way to the Supreme Court. Last winter, Darrell BeShears, the judge-executive of Pulaski County, traveled to Washington...
Start your risk free trial to view the entire installment!
START YOUR RISK-FREE TRIAL
---