Flyrock Risk Psalm 78:1-4, 12-16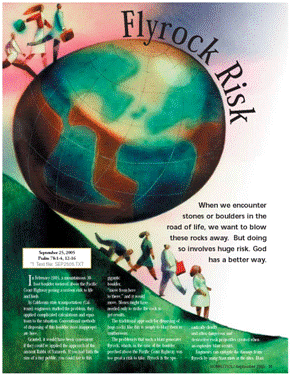 When we encounter stones or boulders in the road of life, we want to blow these rocks away. But doing so involves huge risk. God has a better way.

In February 2005, a mountainous 30-foot boulder teetered above the Pacific Coast Highway posing a serious risk to life and limb.

As California state transportation (Caltrans) engineers studied the problem, they applied complicated calculations and equations to the situation. Conventional methods of disposing of this boulder were inappropriate here.

Granted, it would have been convenient if they could've applied the approach of the ancient Rabbi of Nazareth. If you had faith the size of a tiny pebble, you could say to this gigantic boulder, "move from here to there," and it would move. Moses might have needed only to strike the rock to get results.

The traditional approach for disposing of huge rocks like this is simply to blast them to smithereens.

The problem is that such a blast generates flyrock, which, in the case of the boulder perched above the Pacific Coast Highway, was too great a risk to take. Flyrock is the sporadically deadly and often dangerous and...
Start your risk free trial to view the entire installment!
START YOUR RISK-FREE TRIAL
---