Flavor Enhancers Exodus 16:2-15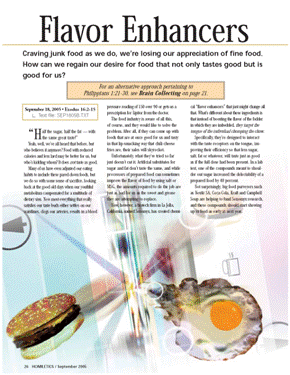 Craving junk food as we do, we're losing our appreciation of fine food. How can we regain our desire for food that not only tastes good but is good for us?

"Half the sugar, half the fat — with the same great taste!"

Yeah, well, we've all heard that before, but who believes it anymore? Food with reduced calories and less lard may be better for us, but who's kidding whom? It does not taste as good.

Many of us have even adjusted our eating habits to include these pared-down foods, but we do so with some sense of sacrifice, looking back at the good old days when our youthful metabolism compensated for a multitude of dietary sins. Now most everything that really satisfies our taste buds either settles on our waistlines, clogs our arteries, results in a blood pressure reading of 150 over 90 or gets us a prescription for Lipitor from the doctor.

The food industry is aware of all this, of course, and they would like to solve the problem. After all, if they can come up with foods that are at once good for us and tasty in that lip-smacking way that chili-cheese fries are, their sales will skyrocket.

Unfortunately, what...
Start your risk free trial to view the entire installment!
START YOUR RISK-FREE TRIAL
---