Willy Wonka's Weeds Matthew 13:24-30, 36-43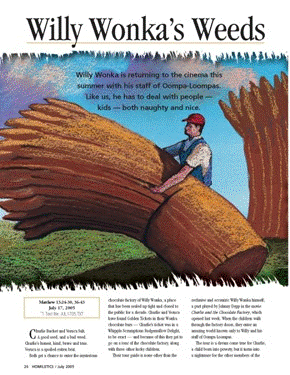 Willy Wonka is returning to the cinema this summer with his staff of Oompa-Loompas. Like us, he has to deal with people — kids — both naughty and nice.

Charlie Bucket and Veruca Salt.

A good seed, and a bad weed.

Charlie's honest, kind, brave and true.

Veruca is a spoiled-rotten brat.

Both get a chance to enter the mysterious chocolate factory of Willy Wonka, a place that has been sealed up tight and closed to the public for a decade. Charlie and Veruca have found Golden Tickets in their Wonka chocolate bars — Charlie's ticket was in a Whipple-Scrumptious Fudgemallow Delight, to be exact — and because of this they get to go on a tour of the chocolate factory, along with three other lucky children.

Their tour guide is none other than the reclusive and eccentric Willy Wonka himself, a part played by Johnny Depp in the movie Charlie and the Chocolate Factory, which opened last week. When the children walk through the factory doors, they enter an amazing world known only to Willy and his staff of Oompa-Loompas.

The tour is a dream come true for Charlie, a child born into poverty, but it turns into a nightmare for the ...
Start your risk free trial to view the entire installment!
START YOUR RISK-FREE TRIAL
---